Prepare the future of advanced cell technologies: Digital, Sustainable and New Modalities

The annual BELSACT Scientific Meeting brings together participants from top academic and industrial groups from Belgium and neighbouring countries.
Leading scientists in these fields will discuss major innovative tools which support animal cell culture and processes understanding, control and improvement.

If you want to learn more about the BELSACT association and be part of this scientific adventure.

If you want to share your vision on how to create opportunities to promote collaboration between industries and universities and create a strong local network of people and institutions?

If you just want to meet other ACT scientists.

If you want to share and see innovative science.

Join our MOTIVATED core team to attend full scientific day!

Meeting Chair: Dr. Ir. Ioannis Papantontiou
Organizing Commitee: Valentine Chevallier, Luís Bernardo Silva, Florence Chainiaux, Isaak Decoene, Inge Vanhoven
Scientific Committee: Jean-Christophe Drugmand, Sebastien Sart
Sponsors
---
Meeting Program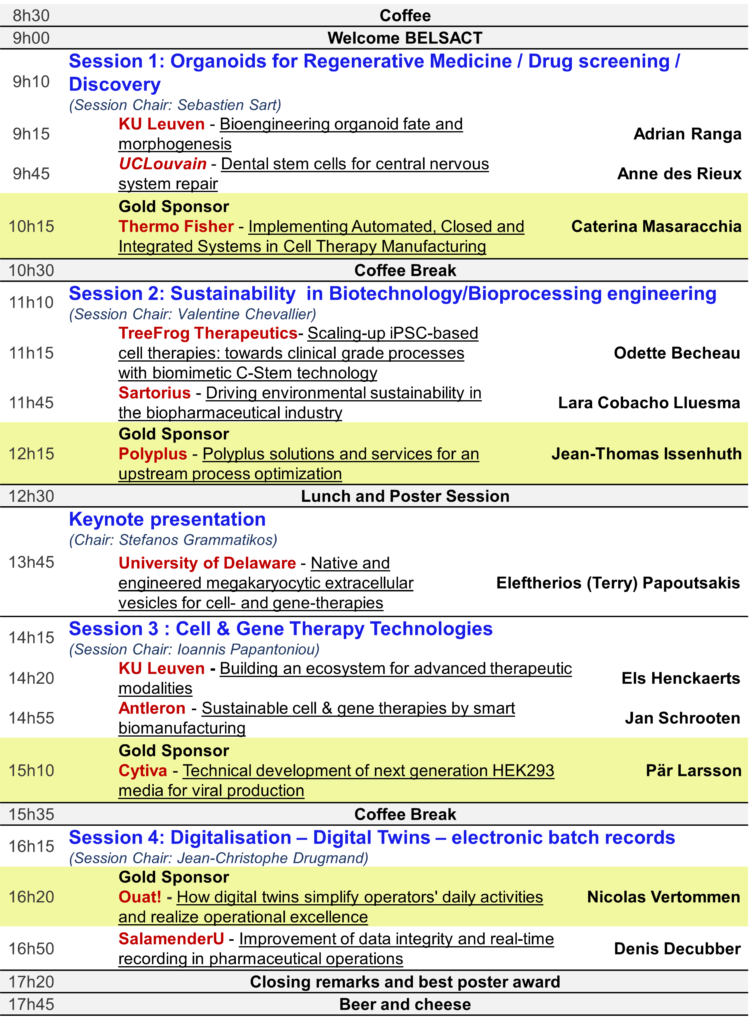 ---
Useful Info
Where? KULeuven – Jubileum hall and promotion room, Naamsestraat 22, 3000 Leuven (Belgium)

When? On 5 April 2023
Registration fees
– Students (including PhD students): free
– BELSACT Members: €50* (including membership renewal and event registration).

Note: If you are not a BELSACT member, you will automatically become one by registering to this event

Email: belsact@gmail.com

*Payment details will be sent after registration. As they are not automatically generated you might experience a delay of 1-2 days
Additional information for students
Abstract submission is not mandatory but highly encouraged.
A certificate of attendance will be delivered after the meeting.
A poster price (ESACT 2024 entrance and travel to Edinburg).
---
The venue
The conference will be hosted by KU Leuven in the historic center of Leuven. Please find below some pictures of the universiteitshal and the jubileumroom.

Address: KULeuven – Jubileum hall and promotion room, Naamsestraat 22, 3000 Leuven (Belgium)


Abstract Submission
Although abstract submission is not mandatory to attend the meeting, we encourage you to submit an abstract on original work to be presented as poster panel. Note that having an accepted abstract will be a selection criterion in the case of registration limitations.

The Abstract are not accepted anymore.
Registrations are now closed.
 
Abstract preparation guidelines:
Abstracts must be submitted in English (.doc(x) files).
Maximum abstract length is 500 words.
Abstracts should include relevant and detailed information about the work to be presented, divided into the following sections:
i) background and novelty;
ii) experimental approach;
iii) results and discussion.

Use our file template to write your abstract and name the file with your name.
Abstracts will be selected by a Scientific Committee according to their quality and will be proposed for poster presentations. Abstracts containing limited detail will not be accepted.